Eggplants or otherwise known as aubergine in the United Kingdom are part of the nightshade family. It wasn't until recently that I understood what nightshade vegetables actually were. Just as some of us have trouble digesting high FODMAP foods, the same can be said for nightshade vegetables. There are over 2,000 species of nightshades but the most popular vegetables are eggplant, tomatoes, potatoes and peppers. Reactions to these vegetables can be very similar to those who can not tolerate gluten. With all of that being said, eggplant is a great FODMAP safe vegetable option if nightshades are not an issue for you. According to the Monash University Application, a FODMAP safe portion is 1 cup.
I absolutely love eggplant but I know not everyone is a huge fan or if you're like my Dad, you only like it fried with tomato sauce on top of it. HA! In my opinion, this FODMAP safe vegetable can quickly go from delicious to not that great due to the consistency. Sometimes it can come out too tough to eat or chewy. There are a ton of different cooking methods like sauteed, stewed, fried and baked which are all delicious. These baked fries are so addicting and it's almost hard to believe they are made from eggplant. I was able to get my vegetable adverse husband to jump on board too as he couldn't stop eating! Check out a few other eggplant recipes here: roasted eggplant dip and baked eggplant.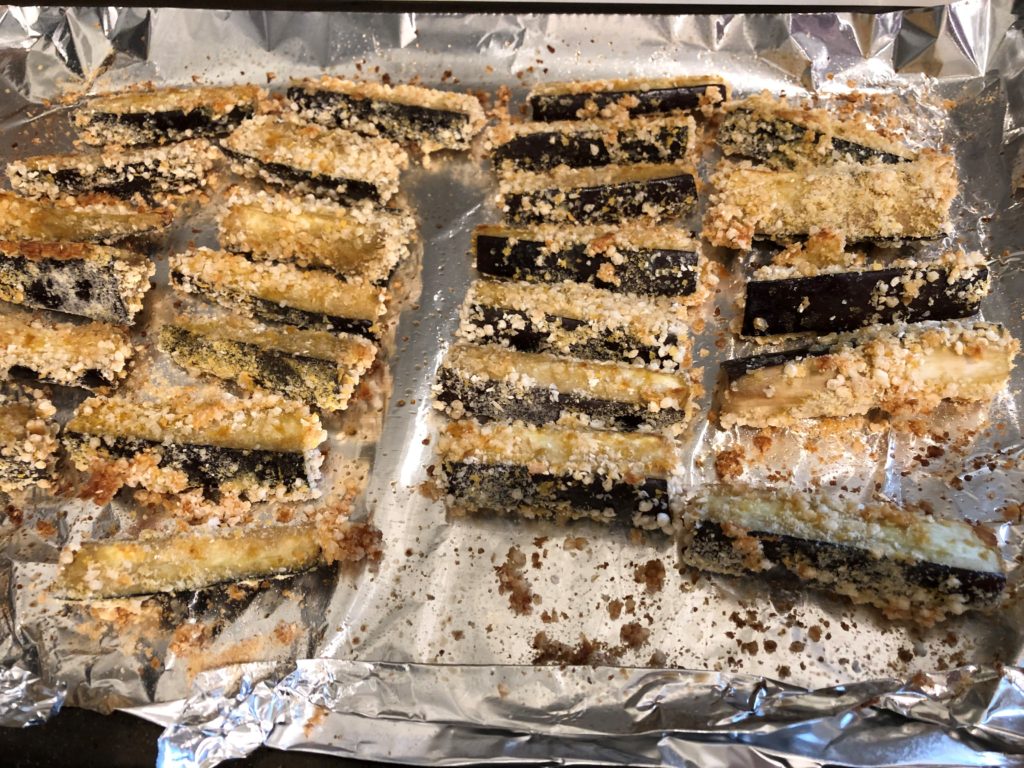 Print
---
Description
A healthified take on french fries with these delicious baked eggplant fries.
---
1

medium size eggplant
salt

1/4 cup

nutritional yeast

1 cup

gluten-free bread crumbs (garlic and onion free)

1/2 tsp

sea salt

1

egg
Nonstick cooking spray
---
Instructions
Preheat oven to 425 degrees.
Slice the eggplants horizontally into long matchsticks (the length and size of french fries) and place into a colander.  Cover the eggplants with a thin layer of salt for 20 minutes.  This helps remove the excess water in the eggplant.  After 20 minutes, rinse the salt off the eggplant slices and pat the eggplant dry.
Whisk the egg into a shallow bowl and place the dry ingredients into a second shallow bowl.  Coat both sides of the eggplant with the egg wash and after dredge with the bread crumb mixture.  Repeat until all of the eggplant slices have been coated.
Place eggplant slices on a non stick sprayed aluminum lined baking sheet. Bake for 6 minutes, rotate and bake for an additional 6 minutes.
Serve immediately with your favorite FODMAP safe dip.
---
Recipe Card powered by